This post is part of the 12 Weeks of Christmas Crafting Tara and I have going on over at the Trendy Treehouse! Come check it out!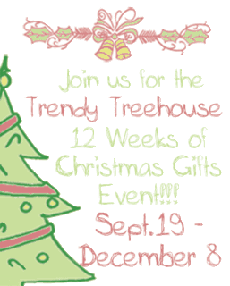 Micah loves his fishing games. He has two of them. One has batteries that always die, the other has a suction cup that doesn't work very well. So I decided to make him a new fishing game that will be easy and fun to play with. And if something gets broken I'll know exactly how to fix it.
(excuse the poorly-lit-needed-to-use-my-flash photography...gotta craft at night so the youngins don't know what they're getting for Christmas!)
What you need:
Felt
Scissors
Thread
Magnets
Fiber fill
Dowl/Rod
Start by making a fish pattern on a piece of cardboard. I like to make the pattern on a folded edge so that I only have to draw one side of the fish but get a symetrical fish! Make sure that the fish pattern is big enough for your magnet to fit through the tail section and into the body.
Then trace your fish pattern onto the felt and cut out the fish. Make sure you have two pieces of the same fish...so stack your felt or just fold a piece in half when you're cutting it to make sure you have to exact pieces.
Sew around your fish but leave the bottom open so you can put the magnet and stuffing in.
Stuff the magnet in and then add some fiber fill to make the rest of the body puffed up. Then sew the end shut making it sorta look like scales.
My suggestion is to sew all the fish together before sitting down to stuff them in front of the tv. Then go back to your machine and sew them all shut. Of course you could sew them all by hand, if you have the time and patience to do so!
Then make a fishing pole. I just folded a black piece of felt in half and made a large J for the hook, making sure that my magnet would fit in the end. I then used a blanket stitch and stiched around the whole hook leaving a LONG piece at the top to be the fishing line. Then I stitched the fishing line to the yellow felt and hot glued that onto the dowl. I also added a little bit of felt by the handle.
And if you don't want to make your own I will have
ONE set in my
etsy store
in a couple of weeks!
Here are some other BOY gift ideas:
Art Kits
Tie Shirts:
Car Play/Storage mat
Personalized t-shirts
Reverse Applique T-shirt
Happy Crafting! can't wait to see what you're making for all the little boys in your life! Feel free to leave a link, I LOVE looking at boy projects! I've got lots of little boys in my life that I need to make gifts for!