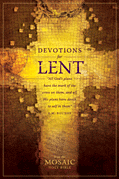 I have been given the opportunity to review

and
giveaway
some Lenten devotional books
from
Tyndale House Publishers
.
Since we're already into Lent I didn't want to
wait with the giveaway until I did the reveiw.
What I can tell you from just glimpsing through

this devotional book is that it looks really neat.

There are great images,
suggested scripture readings,
a small meditation,
prayers and even space for writing your own reflections!

I have
NINE
books to giveaway so your
chances of winning are pretty good!
Here's what you have to do to enter.
Leave a
comment
!
Yup, it's that easy.
If you want an additional entry,
leave a
separate
comment telling me
that you are a
follower
!
PLEASE make sure your email address is either,
in your blogger profile OR
leave it on the comment
(unless you're POSITIVE that I already have it!)
I will pick the winners on Thursday night
and hopefully get the books in the mail by the weekend!
Tyndale House Publishers

has provided me with a complimentary copy of this book.